Hitchcock Pinnacle
---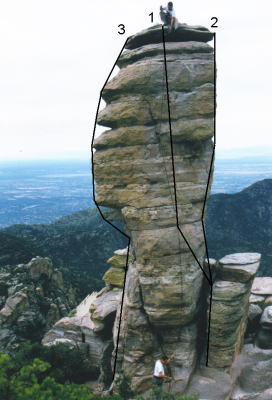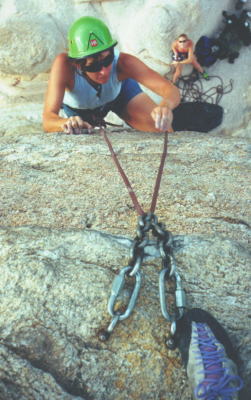 ---
Hitchcock Pinnacle Routes
North Side
Northwest Corner
East Side


The Hitchcock pinnacle is one of the most climbed features on Mt. Lemmon. It is conveniently located near the Windy Point parking lot and it is the most prominent spire that can be seen from the parking lot. The north side of the pinnacle is rated 5.7 and once it is climbed, top-ropes can be set up on the other two routes. This makes all three routes available to most leaders.

Elevation: 6400'
1. North side
Measurement date: 12/29/2001
Rating: 5.7
Mixed: Bolt / Gear

This is one of the most popular routes on Mt. Lemmon. According to Steve Grossman, this was the first technical climb on Mt. Lemmon and was first climbed in 1960 by Bob Kamps. It is 40' 10" tall and has one 3/8" bolt with an SMC hanger. There is a single pair of anchors at the top of this route and each anchor has 7 links attached to a large "Quicklink" and cold-shut (see photo above). This climb has seen a lot of bolting activity in the last year:
After December 29, 2001 - one bolt (see table 1.1).
From July 14, 2001 to December 29, 2001 - four bolts (see table 1.2).
Prior to July 14, 2001 - two bolts (see table 1.3).
On Saturday, December 29, 2001, Steve Grossman and Ben Morin removed three bolts from the north side of the Hitchcock Pinnacle. The goal was to restore the route to the state it was in when Steve Grossman first climbed the route in 1970. The current bolt table is shown below:
For historical purposes: Prior to Saturday, July 14, 2001 there were two bolts on the route. On Saturday, July 14, 2001, Ben Burnham rebolted the route. He moved the lower bolt closer to the pedestal at the base of the climb and added two bolts. Currently, all the bolts are SMC and are marked with the three dots of Ben Burnham (exept the third bolt from the ground - it is unmarked).
There were two bolts on the north side before July 14, 2001. Both bolts were 3/8" and the hangers were SMC. The first bolt hanger was marked with "92 BB" and the The second bolt was unmarked (and still is).
Since "BB" could be Ben Burnham's initials, I asked him about the bolting of Hitchcock Pinnacle. He said that he replaced all the bolts on the pinnacle in the early 90s. He said he used to stamp all the bolt hangers to see how long they would last. He found that since the bolt hangers were stainless steel, they would last virtually forever, so he quit stamping the date on them. Although the bolt hanger on the east side says "90" and the one on the north side says "92 BB", he says that he replaced all the bolts on the route within a one year period.
Top
---
2. Northwest corner
Measurement date: 3/16/2001
Rating: 5.8
Mixed: Bolt/Gear

The climb on the northwest corner of the Hitchcock Pinnacle is 44' tall and has one bolt. This climb uses the same anchors as the north side route. To set up a top-rope, there is a bolt on the top of the pinnacle (to the west of the two chain anchors) that can be used for a directional. A flimsy-looking SMC bolt hanger is attached to the bolt.

The single bolt on the route is 3/8" with an unmarked SMC bolt hanger. Fastened underneath the bolt hanger, there is a small metal disk with markings partially obscured by the bolt hanger - "G8" can be seen on part of the disk. On the day I made the measurements of the pinnacle routes, I pulled booty off of this bolt hanger - a quickdraw.



Top

---
3. East side
Measurement date: 7/27/2001
Rating: 5.10
Mixed: Bolt/Gear

The climb on the east side of the Hitchcock Pinnacle is 44' 4" tall and has one bolt. The single bolt on the route is 3/8" with an SMC bolt hanger. It is marked with "90". Prior to July 14, 2001, there were only two cold-shuts at the top of the route that could be used on the east side as anchors or to set up a top-rope. On July 14, 2001, Ben Burnham added a pair of chain anchors on the east side. The chain anchors have six links each and are attached to cold-shuts.



Top


---
Home | News | Climbs | Interviews | Service/Links | Features | Hall of Horrors
---
Copyright &copy: 2001, RAHutchins
Revised: July 27, 2001
Corrections/Comments: bob@climbaz.com
URL: http://www.climbaz.com