Introduction (by R. Hutchins)
The following story was written by Joe Dalmas just after he and his wife Linda returned from a successful summit attempt on Shishapangma in 1995. In that year, Joe was the only American that was successul in climbing Shishapangma, one of fourteen 8000 meter peaks in the world; a feat that made him a member of the Blue Water Climbing team. Although at the time, Joe was relatively new to rock climbing and he could "...get up the ones that have a short section of 5.10ish moves", today, Joe is a solid 5.10 leader on sustained 5.10 climbs. Within the last year, both Joe and Linda have climbed at Joshua Tree, Smith Rocks, Devils Tower, Vedauwoo, Wild Iris, and made an ascent of the Grand Teton via the Exum route.
Although Joe describes his performance as "... at best mediocre" and states that "... I had been able to climb well above my abilities", I think that most of Joe's friends would be more surprised if he hadn't summitted than if he had.
Forty-Five Cents a Vertical Foot
by Joseph Dalmas
August, 1995
Not long ago, I set out for a day of climbing on some of my favorite crags on Mt. Lemmon with my wife Linda. When we got to the parking lot at Windy Point, we saw that Hitchcock Pinnacle was free so we decided to warm up on the Flake Route. This is a popular roadside route that is usually queued up with novice climbers and a multitude of the uninitiated, armed heavily with video cameras. It's your typical ego building route, lots of big holds and ample protection. About halfway up the route, I noticed that I had drawn a small crowd of retired, winter visitors, so decided to give them a good show. I did a nice layback on the flake, dynoed for a huge bucket, let my feet swing free, threw a heel into a pocket, and then pulled my somewhat rotund carcass over the top. After threading the chains and rapping to the bottom of the 40 foot monolith, I was greeted with smiles and numerous questions. After answering a few inane inquiries like "How high is that thing?", I turned to one elderly gent who seemed more intent on making a statement than probing my vast knowledge of the sport. The man shook his head slowly and said "Sure seems like a lot of trouble to go through just to slide down a rope." At the time, I was sure that he was missing the point. But as I thought about it later that day, maybe I was missing the point and he had summarized my commitment to climbing in just one sentence. Long ago, I had come to grips with why I climb (because I am too old to have a skate board); but maybe he was right, I have been putting out a lot of effort to accomplish very little. Oh sure, I can climb 5.10. Not the long, sustained routes mind you, but with a little hang dogging I can get up the ones that have a short section of 5.10ish moves - as long as the route is somewhat less then vertical and the gear is not too hard. Linda and I have even been successful on some serious mountains like Denali and Aconcagua. Granted, these were guided trips up the trade routes, but it still gets awful damn cold up there. But no matter how much I tried to reassure myself that I was one serious hardass, I couldn't shake the notion that I was still just a 'wantabee' that was closing in fast on 'neverhadbeen' status. Maybe, just maybe, it was time for me and Linda to do something real serious. This was the beginning of our great adventure into the Himalayas.
"Hashish? Marijuana? Cocaine? Change Money? I get you for anything you want?" said the stealthy Nepalese, walking at my side and speaking the international language of broken English. Linda and I were out for a walk through the Thamel district of Katmandu and had attained instant celebrity status among the local shop keepers, street vendors, and the less than scrupulous back street entrepreneurs. From the glazed look in our eyes, our mindless gait, and our color coordinated ensemble of North Face and Patagonia clothing, we had tourist written all over us. We walked aimlessly through the city for hours on end, drinking in the sights, sounds, and smells of an ancient city struggling to find its place in the modern world. Earlier in the day, we had hired a taxi and traveled to the Swayambhunath and Boudhanath Stupas, where we talked with monks dressed in robes the color of Bordeaux. We walked through the market place among the ancient temples of Durbar Square and fantasized about life at the foot of the Himalayas before the influences of Western Civilization. And we visited the industrial sweat shops of Patan, where craftsmen toiled for countless hours in harsh conditions, creating beautiful hand carved furniture, woven rugs, and intricate jewelry for pennies a day. The mysticism, chaos, and economic diversity of the city was overwhelming.
But after wandering through the city for the better part of a day, we found ourselves in dire straits. Kathmandu is a city of more than one million people and less than a handful of public restrooms. All day we had seen men urinating in the gutter, which prompted Linda to exclaim "Men are so disgusting! They are just like dogs! They get the slightest urge to pee and they whip it out." My bladder was about to burst, Linda had just shot down plan 'A', and I was at a loss for a witty rejoinder. Clearly, this was not the time for banter but quick action. We hailed a rickshaw and made tracks for Rum Doodles, where we could perform our bodily functions in privacy, devour Yak burgers and copious amounts of Touborg beer, and thus renew the entire metabolic cycle.
As luck would have it, we stumbled into several other members of our expedition buried behind a mountain of empty beer bottles and greasy french fries. In all, we are a motley crew numbering eleven climbers from five countries. Besides Linda and myself, there is another American named Rick, who is a 50 year old vagabond from California. During the climbing season, Rick will travel the world in search of excellent ice. During the off season, Rick will do whatever needs to be done, as long as it pays and does not interfere with his climbing. Mon is a chain smoking lad from England who claims he smokes only to improve his ability to acclimate. At some point in his life, Mon had been told that a smoker produces more red blood cells to combat the toxic effects of smoking. As everyone knows, red blood cells contain hemoglobin and carry oxygen throughout the body. Ergo, Mon would be able to scrub more oxygen from the air than his non-smoking partners and climb with 'Messnerian' strength. The rest of us reasoned that his lungs were so heavily coated with tar that the few free molecules of oxygen available at altitude would never find their way into his bloodstream. We have two Dave's from England that have a combined total of four trips into the Himalayas and one summit on Cho Oyo. Roger and Martin are two fit, young men from Germany. Roger had tagged Cho Oyo a few years back and nearly bagged K2 the previous season. This would be Martin's first trip to the Himalayas and he would prove to be a very strong and capable climber. Stuart is an ice climbing fanatic who speaks with an unintelligible Scottish accent and would gain the distinction as the only member of the expedition that did not speak English. During the course of the evening, I developed a simple lexical that would allow me to communicate with the boisterous Scotsman. As he spoke with increasing volume and ferocity "E mit grot Lid Mak FORP…….!", I would interject a lively and well timed "NO SHIT!!" When his speech migrated to a tolerable level and more controlled delivery "Tat er wop lut nog zet…..", I would interject a more somber but still well timed "nooo shhhit…." We got on just fine. And through it all, the leader of our expedition, Mal Duff, regaled us with his stories of climbing on the lunatic fringe.
"One time me and Joe Simpson had been out for a slog up the East face of Pachermo, when I took a bit of a nasty fall and pulled the poor boy down with me." said Mal as he leaned forward with both palms flat on the table. "We were all assholes and elbows, hitting ramps and flying over seracs. Well, finally I get my axe in and bring the train to a stop at the edge of an enormous headwall. Poor Joe was all but knackered. His face was a bloody mess! So I said to Joe, 'You've had a wee knock.'" Throughout the evening, Mal would continue to display his ability to state the obvious in grossly understated terms.
The only member of the expedition that was not present for the debaucheries that evening was Erhard Loretan - THE Erhard Loretan! The man was on the verge of becoming the third person in history to climb all 14 of the 8,000 meter peaks - and that's without supplemental oxygen. How fortunate that Linda and I would land an expedition with one of the world's greatest climbers. Once I realized that I was in the presence of the climbing aristocracy, I devised an intricate plan to become his climbing protégé. When we reached the mountain, I followed in his every boot step, I sat next to him in the mess tent, and I pitched my tent next to his. Through osmosis, this man would teach me everything I needed to become a world class mountaineer. Being a kind and patient individual, Erhard did his best to answer my incessant stream of questions and he tried valiantly to enhance my climbing skills, but even Picasso cannot paint without a canvas.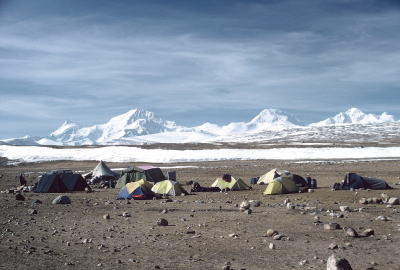 I laid awake in my sleeping bag listening to the slow, shallow, rhythmic breathing of my wife. Her simple act of life had become a metronome for my lethargic thought process here at advance base camp. This night's installment of the cerebral circus would focus on the expeditions progress thus far. Although we had left Kathmandu suffering from various degrees of inebriation, we had embarked with high spirits and boundless confidence. As we bounced our way down the rough and dusty roads of the Friendship Highway, I gazed across the magnificent vistas of the Himalayan foothills. Although we were traveling at speeds far exceeding rational behavior and the limits of our antiquated bus, it would take us several days to make our way into Tibet. To comply with local travel regulations, we were forced to stop at countless checkpoints to have our passports and papers inspected by guards wielding large rubber stamps and bi-colored ink pads - black for Nepalese officials and Red for the "visiting" Chinese officials in Tibet. Along the way, we stopped in a small, Tibetan town named Nylan to acclimate to the rarefied air. We passed the nights in a dark and smoky bar, listening to 70's disco music on a cheap PA system, and watching Chinese solders doing a formal waltz under a mirrored ball, 'mano-y-mano'. In stark contrast, our days were spent hiking in the foothills, visiting monasteries, and playing charades with the Tibetans in a feeble attempt to communicate. We found the Tibetan people to be the kindest, gentlest people on the face of the earth. Although we could barely communicate with these wonderful people, they helped us to understand the allure of an ancient and mystical religion that advocates non-violence, and the cold, hard reality of poverty and suppression.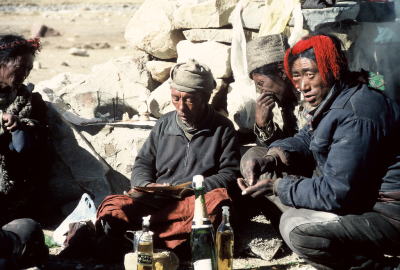 From Nylan, we made our way across the Tibetan plateau and finally established base camp at 16,400 feet. For almost two weeks, we had strut around with our chests puffed out like bantam roosters, but we had finally reached that point in the expedition where boastful talk would be of little use. With the official start of the climb, we prepared a long list of excuses for future reference and began the metamorphosis of the well equipped, high altitude climber. After donning our gore-tex climbing suits, we cast aside our irreverent behavior and attended the Punja ceremony, where we paid homage to the mountain gods.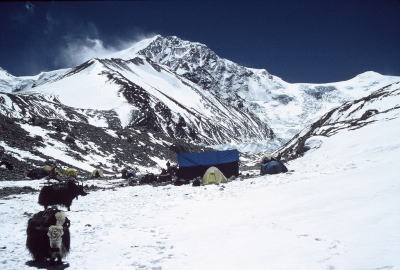 No sooner had we loaded the yaks and turned south for a two day, 20 mile trek to advance base camp, when things became difficult and miserable. About once every half hour, one of our yaks would have an epileptic seizure and buck violently until its entire load lay strewn upon the tundra. Over the two days we would loose one third of our supply of kerosene, a large part of our fresh food, and all affection for the large, woolly mammals. To make matters worse, the weather turned foul and added large amounts of snow to the existing, heavy snow pack; and we were forced to establish advanced base camp three miles and 1,000 vertical feet short of our intended destination. In the end, this would prove to be the fatal flaw in an otherwise marginal plan. We had hoped to travel fast and light and establish only two camps on the mountain, in complete and total disregard for popular wisdom which called for a minimum of three high camps. The additional distance and altitude made our carry days a textbook study of misery, which cut deep into our enthusiasm and resolve. In truth, most expeditions are more about carrying heavy loads in cold, wet conditions than they are about adventure and glory. It never seems to be as bad as some might lead you to believe, but carrying a 60 pound pack in knee deep snow, with sweat soaked long underwear, is about as much fun as wet toilet paper. The accumulative affects of the 14 hour carry days, the cold, wet, windy conditions, and the substandard atmospheric pressure began to take its toll. Try as hard as they might, one of our Daves would never make it much beyond advanced base camp and Rick would struggle to get to camp one.
We were now more than two weeks out of base camp and we had established camp one at 21,000 feet, but nothing of any significance beyond that. Over time, we had become less focused on the climb and more interested in hot showers, good food, and cold beer. Our meal time banter had lost its edge and we were beginning to probe for excuses that would allow us to bag the expedition and still save face - despite the $12,000 each of us had spent on permits, supplies, and transportation. I personally had hoped that Linda would sound retreat on the grounds of feminine frailty, and as a devoted and loving husband I would return with her to civilization. As a domesticated male, I have become very proficient at using the imaginary shortcomings of my spouse to my advantage. Some find this contemptible and loathsome: I find it convenient. Yet through it all, Linda would remain a pillar of fearless determination, and I would be forced to rely on the weather and the infirmed members of the expedition as an explanation for our lack of progress. In fact, our lack of enthusiasm had become so pervasive that we had run back down to advanced base camp in the face of a mild wind storm. Our pathetic display of cowardice and lassitude was more than Mal could tolerate, and that afternoon he pulled us together in the mess tent for a one sided discussion.
"What the hell happened today? If you people have any aspirations to get to the top of this mountain, you are going to have to get out of camp and climb, even in the face of hardship. When the weather clears, we have to be in position to make a move on this pile of rubble." Said Mal in a gentle tone that clearly disembodied his true feelings.
However mild his delivery, the magnitude of his message was clear. We could not wait for the mountain to erode and come down to us. We were going to have to climb to get to the top. So here we were on the eve of our push up to camp one and beyond. Mal's pep talk had struck a chord with me and Linda, and we had a renewed sense of commitment. We were looking forward to the challenge, we would be aggressive, we felt bold, we were determined, and together we would make it to the summit. I rolled gently to my left to look upon the sweet, angelic face of my wife, but found instead a shapeless creature buried deep in a closed mummy bag. The only signs of life were the vapors from her warm breath, purging the bag like the mist from the blow hole of a whale.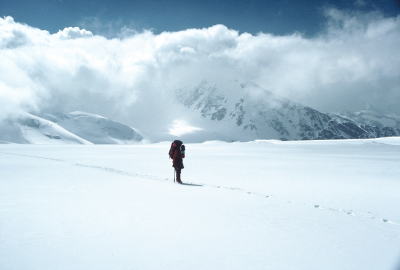 Step…Breath…Breath…Step. I was now completely engrossed in the task of making forward progress, with the lyrics from an old Eric Burdon song ringing in my head, when I felt the carpet pulled out from under my feet. For the second time that day, I had fallen down to my waist into a crevasse. I looked over my shoulder and followed the taught climbing rope back to Linda, who had her axe buried securely into the ice.
"Are you OK?" called Linda after several moments had passed.
"Yah, I'm all right" I yelled over my shoulder.
"Then get out of there!" exclaimed Linda with a sense of urgency in her voice.
Not a day had gone by without the opportunity to practice my crevasse extrication skills. The mountain was riddled with hidden crevasses and the white-out conditions made it impossible to read the glacier. I had even fallen into a crevasse not more than 30 feet from our tent at camp one, when I had stepped out to take a picture.
We were pushing hard to establish camp two at 23,600 feet, and if all went well we would make our bid for the summit the next day. After two weeks of storms, the weather had cleared and we were making solid progress. A few days earlier, Erhard had reached the summit from advanced base camp and returned in less than 24 hours. He is truly not of this world. We had just passed Roger, who was on his way down to recuperate from a five day hiatus high on the mountain. Roger was intent on climbing the mountain solo, but had been besieged with bad luck and poor timing. When the weather was good, Roger was low on the mountain; when the weather was at its worst, Roger was pinned down high on the north glacier. But in the end, Roger's tenacity would pay off and he would reach the summit long after the rest of us were ready to return to Kathmandu.
When we reached camp two, we dug platforms into the snow and settled down for yet another night in the bitter cold. Although the sky was clear and the winds had stopped, we would endure temperatures as low as minus 35 inside our tent. We climbed out of our bags at two in the morning and began the slow, monotonous ritual of brewing hot liquids and forcing down unpalatable food. After spending 30 minutes lacing our crampons and adjusting our packs, we were finally ready to push for the summit.
We climbed steadily up a headwall that would lead us to the South-East face of the main summit. This is the normal route on the mountain and is free of technical climbing beyond the skills needed to climb neve snow inclined at 35 degrees. Previous expeditions had encountered few obstacles and a fair measure of success on this route. But this season the mountain had taken on a distinctively different character, and within a few hundred feet we began to have problems. The crest of the headwall was riddled with crevasses and it would take us nearly three hours to weave our way up the last 200 feet. We had cached our ropes and harnesses on the plateau below camp two to save weight; but without ropes, we were forced to move slowly and cautiously to avoid the crevasses. As we crossed the Eastern buttress to gain access to the glacier, we encountered deep snow and increasing rockfall. As the day wore on, the condition of the route continued to deteriorate and we fell farther behind schedule. After climbing for more than seven hours to reach 24,200 feet, it became clear that we were not going to summit.
By mid afternoon, we had made our way back to camp two and we began the autopsy. We had been unsuccessful, but there was still a chance that we could summit the next day if we climbed the prominent couloir on the North face of the buttress. This would be a technical climb, but we could avoid the crevasses on the headwall and the rockfall from the ridge. However, we were concerned with our lack of provisions. Although we had plenty of fuel to melt snow, we had only candy bars and a few sticks of pepperoni for food. Each of us had to make a decision: should we cut our losses and return to safety, or should we continue on to fulfill our dreams in the face of greater uncertainty and increasing risk.
In short order, the other members of the team had reached a decision. Everyone would stay on except for Dave.
"I've had enough of this fucking mountain! The rest of you will be one day behind me and no better off." exclaimed Dave as he shouldered his pack and turned on his heels toward camp one.
Linda and I were the only people in camp two that had not reached a decision. I returned to our tent to find Linda buried deep in her sleeping bag, wearing every piece of clothing she had, and still shivering violently from the cold. As I brewed hot water to warm her soul, I explained our options. After listening intently, she turned slowly to look at me and said "Joe, I'm not going to make it to the summit tomorrow. I will go with you as high as I can, and then you're going to have to continue on without me."
Without hesitation, I protested and told her that I would not leave her to return alone. It was just too dangerous.
She sighed deeply and said, "If you have anything left, you have to try to get to the summit. If you don't, you're going to regret it."
We had failed to reach the summit, but Linda had put forth her best effort. At that moment, I realized that there is nothing worse than defeat, but you can live with defeat if you give the effort everything you have to give. I was overcome with a sense of deep admiration and affection for this remarkable woman. The mountain may have won, but she had not been vanquished.
Throughout the night, I was stirred from sleep by urgent calls from the neighboring tent. My fellow climbers had left their sleeping bags and a third tent at camp one to save weight, and now they found it difficult to sleep in a cold tent filled twice beyond capacity. In addition, I had made the mistake of asking my friends to wake me in the morning; because unlike them, I had been enjoying sound and dreamless sleep.
"Hey Joe, Hey Joe, WAKE UP!"
"What….Yah, I'm awake. Is it time to go?"
"Naw, we just wanted to make sure you hadn't left without us."
"Joe, how could you be so stupid? You set your self up for this shit." said Linda from the blow hole in her sleeping bag.
"How was I supposed to know they'd do this." I protested.
"Come on, you're a guy, you're supposed to know how this stuff works."
"Linda, I'm old, I'm married, and I have a mortgage. They're fifteen years younger than me, they're at the peak of their game, and they're using new material."
"Oh Bullshit! You expect me to believe that men are creative enough to develop new material. It's just a variation on a theme. Think back and use your head!"
"You want me to regress?"
"Oh god!"
In the end, the guys grew tired of the game and began to fear retaliation from Linda. All men, under all circumstances, fear the wrath of a woman deprived of sleep.
Early the next morning, we repeated the ritual of melting snow and lacing crampons in preparation for yet another assault on the mountain. Before leaving the tent, Linda gave me her candy bar and piece of pepperoni. It would be a long day on the mountain with very little to eat, but it would be an eternity for Linda who would remain in camp two, with no food and only her concern for our welfare to keep her company. One hundred feet out, I stopped to take one last look at camp, and I could clearly see the silhouette of my wife outside our tent, slowly waving goodbye.
We moved carefully across the glacier above camp two to avoid the crevasses, and eventually made our way to the base of the prominent couloir on the North face of the buttress. Along the way, we had passed the remains of two climbers that had succumbed to the altitude during a storm. The sight of their bodies buried beneath a thin layer of wind blown snow was a solemn reminder that the mountains can be dangerous and unforgiving. I leaned back on my ice axe and gazed up 500 feet of ice and rock that reached to the sky at an imposing 45 degrees. Illuminated by the light of a billion stars, I could discern the features of the ice and jagged rocks. One by one, we started up the couloir Stu, Mon, and Mal took to the ice first, with Stuart setting a blazing pace. Martin, Ghombu (our only high altitude Sherpa), and I set out after the others had established a decent gap. I climbed slowly, steadily, and carefully. At high altitude, your body is like a flashlight battery. Some climbers are stronger than others and are of the large 'D' cell variety, and some of us are weaker climbers and of the 'AAA' cell size. But no matter how strong you are, if you burn bright you drain quick. The secret to success on big mountains often lies in how well you pace yourself. I had never been this high and was unfamiliar with how my body would react to the rarefied air and bitter cold. I rehearsed a few simple riddles in my mind, hoping that I would be able to detect my diminished mental capacity before all hope was lost.
Before we had reached the stone centennials at the crest of the ridge, I had fallen behind the rest of the party but was gaining on Mon, who had stopped on a ledge to rest and take on fluids. I was less than five feet below the ledge when my left crampon peeled off my overboot and broke free from the ice. I was filled with a sudden wave of terror. I put a death lock on my axe and willed the pick to take a better purchase in the ice. I looked down at my left leg and the crampon dangling free at the end of my heel strap. My right leg began to pump like a sewing machine and dislodge small crystals of ice beneath my front points. Far below, I could see the mouth of a wide crevasse that ran parallel to the base of the couloir. If I were to fall now, I would have almost no hope of self arrest and would spend the rest of eternity at the bottom of the abyss. I was frozen in time and space, afraid to move but desperate to make the ledge. In a voice trembling with fear, I called to Mon and asked for his axe. He said nothing and stared down at me, devoid of emotion. I called to him again, "Mon, give me your axe!"
This time he moved closer to the edge and said, "If you fall, you'll take my axe with you and I won't be able to get down."
I did not have time to challenge his sense of morality or honor. Slowly, ever so carefully, I tried to remove my axe from the ice. As I eased the pressure on the shaft, I could feel my right crampon flex in the ice. I couldn't move and my fear reached meltdown level. I was so overcome with the thought of my own demise that I almost didn't hear the voice calling to me from above.
"Joe. Take my axe!"
It was Martin. He had heard my plea for help and had downclimbed to the ledge. I took his axe, and with all the power I could generate, I buried the pick deep into the ice.
With three points of contact on the wall, I worked my way up to the safety of the ledge.
I slumped back against the rocks and tried to gather some measure of composure. After several minutes, I looked over to Martin, who had remained by my side without saying a word, and I said to him, "Thanks. I thought I was going to die, and Mon wouldn't give me his axe."
Martin looked out over the Tibetan plateau and in a solemn voice said, "I know, and I can't understand that."
When Martin and I reached the saddle at the top of the couloir, we rejoined the rest of the team who were deep in discussion about who would go down. Stuart found that he was depleted from the ferocious pace he had set in the coulor, and he knew that he would not make it to the summit. Shaken by what had happened in the couloir, Mon had lost his confidence and declared that he "did not feel lucky" and would return to camp two with Stuart. Ghombu volunteered to piece together the abandoned rope that littered the ridge, and fix lines for our descent to the base of the couloir. That left Mal, Martin and me to continue on for the summit. Both Martin and I were unsure about our chances on the final 1,400 vertical feet, but we would continue on just to see how high we could go.
The three of us followed the ridge up neve snow and over the rock landscape. A few times we tried to make our way out to the glacier on the South-East face, but we were turned back to the ridge by slab avalanches. As we kicked steps into the thick crust, we could feel the snow moving on the marbles. Gradually, the snow would become a river of moving plates and we would traverse on a downhill vector to escape the torrent. After the second avalanche, Martin took one last look at the summit, and turned toward camp two without a word.
In increasing winds and deteriorating conditions, Mal and I continued up the ridge. I would plod along with imperceptible forward progress, and Mal would run ahead only to slump over his axe and gasp for air as he waited for me to join him. We climbed on for several more hours before the ridge narrowed to a small ledge at the base of an 60 foot, near vertical wall of ice. For several minutes, we stood motionless and stared up the wall. We were less than 200 feet from the top of the mountain with the most difficult, technical climbing between us and the summit. Under normal circumstances, we would probably be arguing about who would take the lead; but at 26,200 feet, with no rope, no gear, and the real possibility of falling all the way back to camp two, we began to wonder if we were meant to have this one. Mal thought he would be able to solo the wall, but we had our doubts about an ice climber from the deserts of Arizona. For several minutes, we engaged in a meaningless and unavailing exchange.
Mal began with, "What do you want to do?"
I answered with, "I don't know, what do you want to do?"
"Do you think you can make it?"
"I don't know, what do you think?"
Realizing that we were getting nowhere, Mal pulled hard on an old, weathered line of perlon that hung down the face from the rocks above; and when the rope held, he made the decision to go to the top. We knew it would be unwise to use prusik knots to ascend the line, but we might be able to catch ourselves in a fall.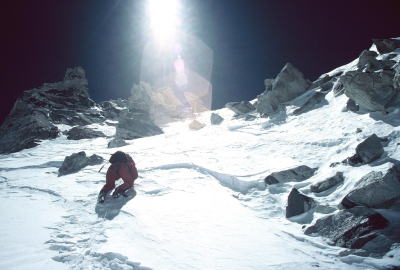 Mal lead out the pitch and made the top in just under an hour. After hearing Mal call down for me to follow and "keep my shit together," I started out on the scariest lead of my life. I was climbing steep ice with one axe - a new and unexpected experience. In just over an hour, I reached the top of the ice wall and stopped dead in my tracks as I stared down at the perlon, which hung over the lip of the rocks. In the violent weather of countless storms, the rope had been chopped. The sheath was shredded and most of the strands had been chewed through. My eyes were still fixed on the rope when I heard Mal's voice calling to me above the wind. As I looked up, Mal threw a thumb over his shoulder and said, "There it is. We better get going. The wind is up and this storm is likely to be a problem."
And there it was. Not more than 250 feet away was the summit of Shishapangma, 26,397 feet above sea level. All I had to do was follow the final ridge and climb the steep pyramid of snow that led to the summit. In the raging wind, I carefully straddled the ridge with small, mechanical steps and worked my way to the top. The final few feet steepened dramatically and I could see that the summit was no larger than the welcome mat outside my front door. I had come this far and I was not about to get blown off of the mountain. As I reached the summit, I dropped down to my knees and draped my chest over the top. There would be no summit picture with arms raised high and ice axe pointing to the heavens. I was overcome with a sense of joy and accomplishment. Climbing a mountain is a powerful and moving experience. Only in the mountains can you realize your full mental and physical potential, and still discover your limitations.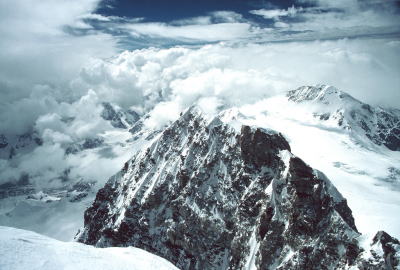 We made our way back to camp, in a storm, and long after dark. Ghombu had worked diligently to fix lines in the couloir and we were able to descend the ice quickly and safely. We were practically running to cross the lower glacier and we were guided into camp by Linda's vigilant calls into the howling wind. As I made the final steps into camp, I could see that Linda was crying but wearing a smile filled with love and joy.
In truth, I had been fortunate and I had been able to climb well above my abilities; and still my performance was at best mediocre. But the Himalayas conjure images of courageous men and women achieving the impossible. I might never earn my place alongside the icons of Himalayan climbing, but I had finally made a serious commitment to climbing; and who knows, I might be able to fabricate the image of a real mountaineer for my friends back in the desert.