Monkey Business on Endgame
---
Yesterday, I received a call from Scott Ayers informing me that there has been some monkey business on Endgame. It is a classic climb which is on the End Pinnacle of the Rockfellow Group in the Cochise Stronghold. Bob Kerry, in his guidebook "Backcountry Rockclimbing in Southern Arizona", has Endgame as a three star, five pitch, 5.10 climb that is "...among the best routes in the East Stronghold."
Scott said that his Metolious bolt hangers on the first belay of Endgame and Welcome to the Machine had been replaced with large chain anchors - for reasons unknown. Likewise the rap anchors at the top of the climb had been chopped, and new anchors had been installed. We speculated that the reason the modifications were made was that someone mistakenly didn't feel that the two bolt anchors were adequate. Nothing could be further than the truth. I have spent many hours hanging from his anchors (see Climbing with Scott) and they are very safe. I believe they would easily hold up the proverbial Volkswagen and are more than strong enough for climbing anchors.
There is a unwritten code of ethics regarding bolting in the climbing community. This code of ethics dictates that before you modify a climbing route in any manner, you talk about the proposed changes with the first ascent party before you make the modifications. This shows respect for the first ascent party and acknowledges their eye for choosing a great route and their skill at safely climbing and protecting it. In this case, although Scott Ayers and Mark Colby are still actively climbing, no attempt was made to contact them before the modifications were made. This doesn't show them the respect that they deserve. They spotted the line, made the first ascent, chose the location of the anchors and belays, and created a classic route that is "...among the best routes in the East Stronghold." The people who made the modifications to Endgame didn't...
Scott and Mark are still very active climbers, and they can maintain their own routes. Scott has an incredible attention to detail and is very committed to safety. He also has a commitment to using bolts and bolt hangers that have a low visual impact on the environment - unlike the large chain anchors that were installed on Endgame. He asked me to inquire if anyone knew who made the modifications - or if anyone would acknowledge that they had made the modifications. He would like to contact the party and discuss the issue with them. It you know anything, would you please contact me at bob@climbaz.com and I will forward your e-mail on to him.
---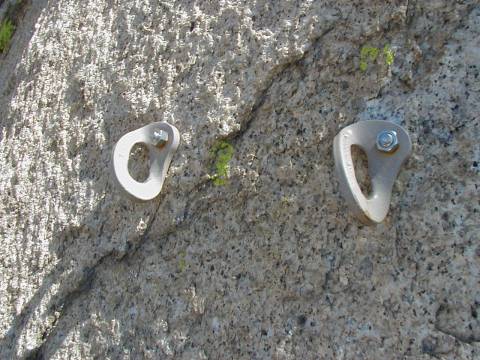 The two-bolt anchors that Scott uses.
---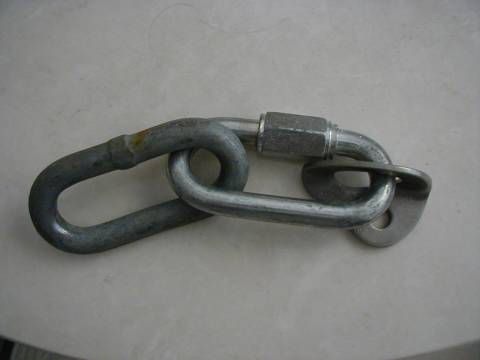 A battleship anchor that some ya-hoos put up on Endgame. Note that it is no longer hanging on rock...
---
Home | News | Climbs | Interviews | Service/Links | Features | Hall of Horrors
---
Copyright &copy: 2003, RAHutchins
Revised: July 17, 2003, August 17, 2003
Corrections/Comments: bob@climbaz.com
URL: http://www.climbaz.com