Jim McCarthy
by John Rupley
---
Jim and I were undergraduates at Princeton during the early 1950's. We went often to the Shawangunks , where we met Hans Kraus. We climbed together for several summers, making the first ascent of the Middle Howser Spire in the Bugaboos, two new routes on Devil's Tower, the West Face of Snowpatch with Hans Kraus, the "diretississima" on High Exposure with Hans, and Foops, another Shawangunk climb that still appears occasionally in ads. Jim was a leader of Shawangunk climbing for many years. He has been a major force in the American Alpine Club as its President and a long-time member of its board. Jim practiced trial law in New York and is now living in Jackson Hole.
---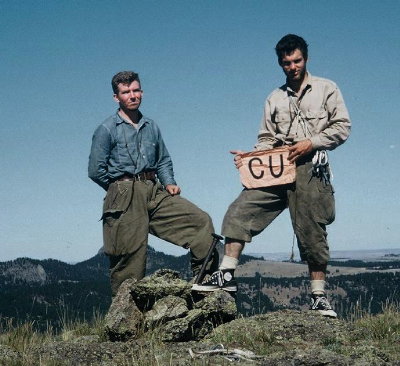 Jim McCarthy (left) and Dave Bernays, summit Devil's Tower, 1954; note that in those days tennis shoes were worn for climbing. (John could not remember what "CU" stood for. Both John and Jim went to Princeton and he thought that Dave went to MIT - so "CU" was not tied to any university.)
---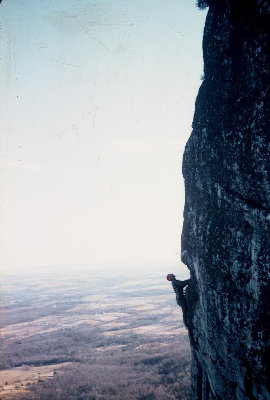 Jim McCarthy on High Exposure, Shawangunks, 1957.
---
Copyright &copy: 2002, John and Ila Rupley
Revised: February 12, 2002
Corrections/Comments: bob@climbaz.com
URL: http://www.climbaz.com