Climber survives 80-ft. drop
This story below appeared in the Arizona Daily Star and on their website www.azstarnet.com on Sunday, August 31, 2003. The article is by Eric Swedlund.
Joaquin was climbing on Agatha Christie and fell while attempting to be lowered. I have not talked with any of the parties involved (this information should be considered heresay), but I have heard a similar story from several sources. It sounds like Joaquin was at the anchors and had set up a top rope. He thought his belayer had him on belay and he put his weight on the rope. The belayer thought he was off belay and didn't realize he was going to weight the rope. The result was a fall from the anchors to the deck. The cause of the accident has been attributed to a communication breakdown.
Mountain rescue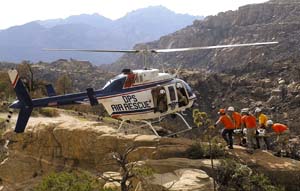 David Sanders / Staff
Members of the Southern Arizona Rescue Association carry climber Joaquin Fox to a waiting helicopter perched on a ridge near Windy Point along the Mount Lemmon Highway. Fox sustained head and back injuries in the 80-foot plunge. .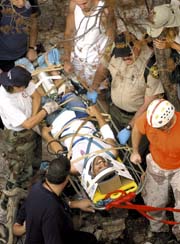 Photos by David Sanders / Staff
Rescuers from different organizations hauled Joaquin Fox, 38, up a nearby slope where he was transferred to a helicopter.


Friction from rope may have slowed man's near-fatal fall
By Eric Swedlund
ARIZONA DAILY STAR


Authorities rescued a 38-year-old rock climber on Mount Lemmon Saturday after the man fell 80 feet after an ascent in the Windy Point area.

Remarkably, the man was conscious and alert when rescue crews reached him, said Pima County sheriff's Deputy T.J. Price, who was just about a mile down the Mount Lemmon Highway when the 911 call came in about 1:30 p.m.

Joaquin Fox was climbing with several other people in the North Fin area west of Windy Point. He had reached the top of his climb when he fell, still connected to his rope, Price said.

Fox was unable to stop himself and neither could his belayer, Lori Elliott - the climbing partner who secured his rope.

Fox hit the rocks below and tumbled, injuring his back and eye and possibly received other head injuries, Price said.

Crews from the Southern Arizona Rescue Association, the Mount Lemmon Fire District and Rural/Metro Fire Department helped in the rescue.

Rescuers hiked to Fox, then hauled him up about 200 feet away from the climbing slope, then carried him a short distance to a saddle where the Department of Public Safety's Ranger helicopter was able to land. Fox was flown to University Medical Center about 3:45 p.m., Price said.

"He's lucky he didn't have any other significant injuries," he said. "These types of operations sometimes can be lengthy, but his condition was such that we needed to expedite it faster."

Fox remained at UMC in guarded condition late Saturday.

Cody Tye and Ryan Fitzgerald were climbing nearby when Fox fell.

At first, Tye said, it seemed like Fox was doing a fast rappel, but then he shouted "Stop!"

The friction of the rope helped to slow Fox, but the fall still appeared potentially devastating, Fitzgerald said. "I actually thought he was going to be dead," he said.

Tye called Fox a "real experienced, sharp climber," who simply had an accident.

"He handled it really well and just toughed it out," Tye said.
---
Home | News | Climbs | Interviews | Service/Links | Features | Hall of Horrors
---
Copyright &copy: 2003, Arizona Daily Star
Revised: September 29, 2003
Corrections/Comments: bob@climbaz.com
URL: http://www.climbaz.com